About Rebecca
I have been working in the field of horticulture since the early 1980s. While in college studying fine arts, I worked in the nursery industry and I developed a great base of knowledge related to plant material - from the largest trees to the smallest herbs, from the smallest weeds to the most beautiful oriental lilies.
Following those years, I was fortunate to be offered a position on Cape Cod with a landscape architect/landscape construction firm. At the firm, I became versed in many facets of the business including design and construction, as well as the retail aspects of the industry. In the early '90s, I embarked on my own and established Gardens by Rebecca, specializing in gardening. Although I was content to mow lawns, I knew I had much more to offer and concentrated on the challenges and details involved with designing and maintaining the plant material on any given property rather than the mow, blow, and go services offered by so many. My arts background has been such a benefit when working with the ever-increasing variety of plants in the industry as well as the landscape design services I provide.
I have worked in almost every aspect of the horticultural industry from greenhouse propagation to landscape construction, from weeding poison ivy to wedding floral arrangements. Now, all these years later, I have been blessed with the best crew on Cape Cod, and a few greenhouses where we produce our own annuals and perennials as well as more and more cutting flowers.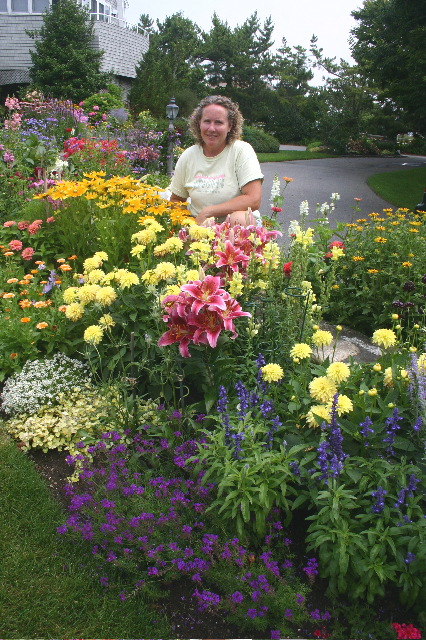 My clients and their challenges are as varied as the flowers we grow. We have developed relationships with other landscape professionals and work together wherever possible to get the work completed in the most efficient and professional manner.
Cape Cod is a great place to do this work. We work with a variety of clients, and we have been fortunate to work on a variety of properties requiring all levels of detail from the simplest lawn care to extensive flower gardens.
I have an unbridled passion for color and combinations. Whether a small container at the front door or a large garden border or foundation planting, I always use interesting combinations of foliage, flower, and texture to create the most beautiful gardens possible!
Please feel free to contact us to discuss any projects you might be considering for now or in the future. [email protected]